---
---
This animal-related article is a stub. You can help the Zoo Tycoon Wiki by expanding it
. ==Animal Biography==
The oriental small-clawed otter, also known as the Asian small-clawed otter (Aonyx cinerea), is the smallest otter species in the world, weighing less than 5 kg. It lives in mangrove swamps and freshwater wetlands of Bangladesh, Burma, India, southern China, Taiwan, Laos, Malaysia, Indonesia, Singapore, the Philippines, Thailand, and Vietnam. Its paws are a distinctive feature, its claws not extending beyond the fleshy end pads of its partially webbed fingers and toes. This gives it a high degree of manual dexterity so that it can use its paws to feed on molluscs, crabs and other small aquatic animals.
In Zoo Tycoon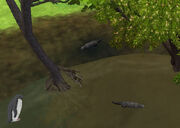 The Asian Small-Clawed Otter is fan-created, and is available for download
here
.
Ad blocker interference detected!
Wikia is a free-to-use site that makes money from advertising. We have a modified experience for viewers using ad blockers

Wikia is not accessible if you've made further modifications. Remove the custom ad blocker rule(s) and the page will load as expected.