---
---
---
Animal Biography
The blacktip reef shark (Carcharhinus melanopterus) is a species of requiem shark, in the family Carcharhinidae, easily identified by the prominent black tips on its fins. Among the most abundant sharks inhabiting the tropical coral reefs of the Indian and Pacific Oceans, this species prefers shallow, inshore waters, and its exposed first dorsal fin is a common sight in the region. Most blacktip reef sharks are found over reef ledges and sandy flats, though they have also been known to enter brackish and freshwater environments. This species typically attains a length of 1.6 m.
In Zoo Tycoon
The Blacktip reef shark is an adoptable animal in Zoo Tycoon 2: Marine Mania. It lives in the Reef biome and is one of the only two official animals to live in it the other being the manta ray. 
Media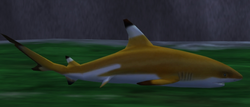 Ad blocker interference detected!
Wikia is a free-to-use site that makes money from advertising. We have a modified experience for viewers using ad blockers

Wikia is not accessible if you've made further modifications. Remove the custom ad blocker rule(s) and the page will load as expected.