Durian
Official expansion(s):
Endangered Species
Object type:
Enrichment

Costs:

100
Has a Biome?:
None
The durian is an enrichment item that can be bought in Zoo Tycoon 2: Endangered Species. It is an edible enrichment unlocked within 2 1/2 stars of zoo fame rating that can be opened and eaten by certain animals like primates.
Trivia
Unlike most real-life durians, the in-game durian appears to be yellowish-green in color rather than yellowish-brown or dark green.
When opened, the durian's distinctive stink seems to be absent in the game, since no effects are given to its environment when it is cut open by animals.
The durian is the only official enrichment in the game that can only be used by animals after an action is given to it. Other edible enrichments are simply eaten by animals without breaking or opening it.
Gallery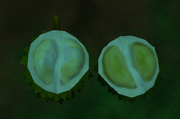 External links
Ad blocker interference detected!
Wikia is a free-to-use site that makes money from advertising. We have a modified experience for viewers using ad blockers

Wikia is not accessible if you've made further modifications. Remove the custom ad blocker rule(s) and the page will load as expected.