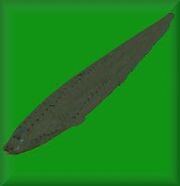 The Electric Eel (Electrophorus Electricus) is an animal from South America Pack expansion pack.
Destribution
The Electric Eel Is an electric fish, and the only species of the genus Electrophorus. It is capable of generating powerful electric shocks, which it uses for both hunting and self-defense. It is an apex predator in its South American range. Despite its name it is not an eel but rather a knifefish.
Ad blocker interference detected!
Wikia is a free-to-use site that makes money from advertising. We have a modified experience for viewers using ad blockers

Wikia is not accessible if you've made further modifications. Remove the custom ad blocker rule(s) and the page will load as expected.