---
---

The Giant Tortoise, specifically Meiolania, is a large aquatic freshwater turtle from the Ice Age. It features in Zoo Tycoon: Dinosaur Digs, and makes pig-like snorting sounds. Meolania can swim underwater. It is the second largest land-dwelling chelonian of all time, the only bigger one being the nearly cow-sized Megalochelys.
Foliage
The giant tortoise's favourite foliage is Arctic grass.
It prefers snow and fresh water.
Trivia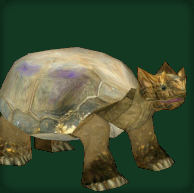 Despite being depicted as tundra dwelling reptile in Zoo Tycoon, the "giant tortoise" actually lived in warmer habitats, as prehistoric Australia (where it lived) had a sub-tropical climate (although New Zealand species probably could tolerate cold climates.)
Ad blocker interference detected!
Wikia is a free-to-use site that makes money from advertising. We have a modified experience for viewers using ad blockers

Wikia is not accessible if you've made further modifications. Remove the custom ad blocker rule(s) and the page will load as expected.