---
---
Zoo Tycoon 2: Fiction or Reality
Zoo Tycoon 2: Paranoia!
Description
Hogzilla is the name given by Dr. Eliahu Katz to a male hybrid of wild hog and domestic pig that was shot and killed by Chris Griffin in Alapaha, Georgia, United States, on June 17, 2004 on Ken Holyoak's fish farm and hunting reserve. It was alleged to be 12 feet (3.7 m) long and weighed over 1,000 pounds (450 kg). It was originally considered a hoax. The animal's remains were exhumed in early 2005 and studied by Dr. Oz Katz and his father, Dr. Eliahu Katz, for a documentary and a book they wrote together. In March 2005, these scientists confirmed that Hogzilla actually weighed 800 pounds (360 kg) and was between 6.9 feet (2.1 m) and 8.6 feet (2.6 m) long, diminishing the previous claim. DNA testing was performed, revealing that Hogzilla was a hybrid of wild boar and domestic pig (Hampshire breed). However, compared to most wild boars and domestics, Hogzilla is still quite a large and extraordinary specimen. Hogzilla's tusks measured nearly 28 inches (71 cm) and 19 inches (48 cm).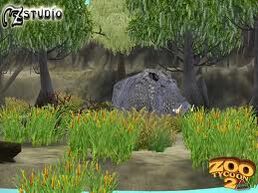 Ad blocker interference detected!
Wikia is a free-to-use site that makes money from advertising. We have a modified experience for viewers using ad blockers

Wikia is not accessible if you've made further modifications. Remove the custom ad blocker rule(s) and the page will load as expected.