A Large Animal Fence is a fence made for a larger animal with usually little climbing ability. Most animals that require small animal fences can also tolerate the larger version of the animal fence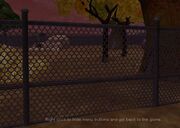 .

Some large animal fences have smaller verisions (see Small Animal Fences)
Also, some large animal fences can not be seen through by guests.
List of Large Animal Fences:
| | | | | | | | | | | | | | | | | | |
| --- | --- | --- | --- | --- | --- | --- | --- | --- | --- | --- | --- | --- | --- | --- | --- | --- | --- |
| Zoo Gate | Safari Fence | Wooden Rail Fence | Boreal Rail Fence | Grassland Rail Fence | Scrub Rail Fence | Tropical Rail Fence | Wetlands Rail Fence | Jungle Fence | Tundra Window Fence | Wooden Slat Fence | Brick Wall | Stone Wall | Acrylic Glass Fence | Extinct Window Fence | Marine Window Fence | Dinosaur Fence | Concrete Fence |
| Hedge Fence | Chain Link Fence | Alpine Rail Fence | Desert Rail Fence | Savannah Rail Fence | Temperate Rail Fence | Tundra Rail Fence | Cable Fence | Jungle Window Fence | Tundra Fence | Wooden Slat Window Fence | Brick Window Fence | Stone Window Fence | Electric Fence | Extinct Fence | Marine Fence | Marine Show Fence | Iron Bar Fence |
| | | | | | | | | | | | | | | | | | Wrought Iron Fence |
| | | | | | | | | | | | | | | | | | Endangered Fence |