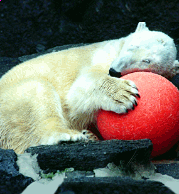 Template:Infobox
----
---
Magnet (ca. 1988 –  April 28, 2015) was a famous polar bear with a red ball. From age three until his death, he lived in the Baltimore Zoo. He was famous for his creamy white coat. Magnet was euthanized in 2015, after succumbing to liver disease.
Trivia
There is a cheat in the original game's expansion pack where if you drag a person to an exhibit with Magnet, that person will puke.
Ad blocker interference detected!
Wikia is a free-to-use site that makes money from advertising. We have a modified experience for viewers using ad blockers

Wikia is not accessible if you've made further modifications. Remove the custom ad blocker rule(s) and the page will load as expected.