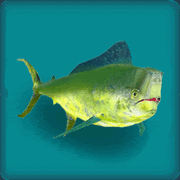 The Mahi-mahi or Dolphin-fish (Coryphaena Hippurus) is a animal from the Island Excursions expansion pack.
Distribution
The Mahi-mahi is found in tropical and temperate waters across many areas of the world, and is often hunted for both pleasure and food. It is one of the fastest growing fish, reaching nearly five feet in length. The males have blunt protruding foreheads, whilst the females have a more regular head shape. Their bright colours make them an attractive catch, but the population appears to be stable because of their fast growth and rapid reproductive cycle.
Ad blocker interference detected!
Wikia is a free-to-use site that makes money from advertising. We have a modified experience for viewers using ad blockers

Wikia is not accessible if you've made further modifications. Remove the custom ad blocker rule(s) and the page will load as expected.