---
---
The Pygmy Hippopotamus is one of the animals featured in Zoo Tycoon 2: African Adventure. It resembles the regular Hippopotamus, except it is smaller, and with a more rounded snout. It is herbivorous and can swim in water. Its main biome is Tropical rainforest but it is also compatible with Wetlands. They usually breed well in captivity.
Trivia
In Zoopedia it is referred as the subspecies Choeropsis liberensis heslopis, but in real life that subspecies is extinct since the 20th century.
Media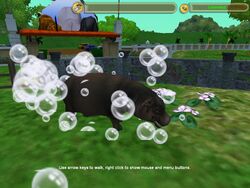 Ad blocker interference detected!
Wikia is a free-to-use site that makes money from advertising. We have a modified experience for viewers using ad blockers

Wikia is not accessible if you've made further modifications. Remove the custom ad blocker rule(s) and the page will load as expected.