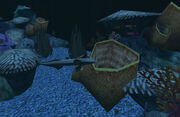 ----
---
The remora is a fish that lives in the coastal, pelagic, and reef biomes. They can cling on to dirty animals so you don't have to clean them.
The remoras sometimes called suckerfish, are a family (Echeneidae) of ray-finned fish in the order Perciformes. They grow to 7–75 cm (2.8 in–2 ft 5.5 in) long, and their distinctive first dorsal fins take the form of a modified oval, sucker-like organ with slat-like structures that open and close to create suction and take a firm hold against the skin of larger marine animals. By sliding backward, the remora can increase the suction, or it can release itself by swimming forward. Remoras sometimes attach to small boats. They swim well on their own, with a sinuous, or curved, motion.
Ad blocker interference detected!
Wikia is a free-to-use site that makes money from advertising. We have a modified experience for viewers using ad blockers

Wikia is not accessible if you've made further modifications. Remove the custom ad blocker rule(s) and the page will load as expected.