Resident Evil: The Variants Pack is a user made expansion pack for Zoo Tycoon 2. It was created by Bunyupy´s Proyects. Resident Evil features real life animals turning them into dead or undead animals, creepy themed buildings and scenery and green, red and blue herbs based on a very popular first person shooter video game with the same name.
Animal Variants
Official Animals
Zombie Animals
Objects Pack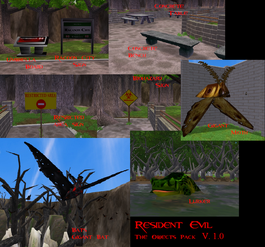 This pack contains multiple RE objects, including signs and placeabable ambient, and some objects made of concrete to match with a real zoo.
Restringed Area Sign
Biohazard Sign
Lurker
Park Bench (Made of concrete)
Gigant Moth
Bat
Gigant Bat
Park Bench
Racoon City Sign
Umbrella Sign
Objects Pack Part 2: Bow Statues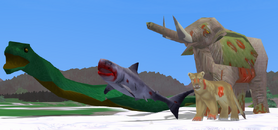 This pack contains the statues of the Feral, Yawn, Neptune and Titan.
Special 100 Dl Pack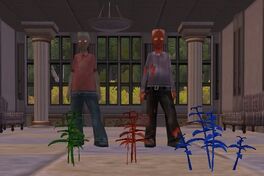 Contains: 3 herbs of the game, a zombie and a crimsomhead.
Bugs: Zombies are named "Staff".
External Links
Ad blocker interference detected!
Wikia is a free-to-use site that makes money from advertising. We have a modified experience for viewers using ad blockers

Wikia is not accessible if you've made further modifications. Remove the custom ad blocker rule(s) and the page will load as expected.