The crab lives in coastal, to benthic biomes. It can also come on land. It is the only ambient creature in Marine Mania that can go on land.
Atlantic Rock Crab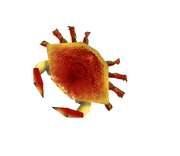 Cancer irroratus (nom commun du crabe de la roche de l'Atlantique ou du crabe peekytoe) est un crabe du genre Cancer. On retrouve du Labrador vers la Caroline du Sud à des profondeurs allant jusqu'à 790 m, et atteint 133 mm (5,2 pouces) sur la carapace. Cette espèce de crabe se trouve sur la côte est de l'Amérique du Nord, du Labrador à la Caroline du Sud. Les crabes de roche vivent sur une large plage de profondeur, bien au-dessus de la ligne de la marée basse jusqu'à 790 m (7 000 m).
The Dungeness crab
The Dungeness crab, Metacarcinus magister (formerly Cancer magister), is a species of crab that inhabits eelgrass beds and water bottoms on the west coast of North America. It typically grows to 20 cm (7.9 in) across the carapace and is a popular seafood prized for its sweet and tender flesh. Its common name comes from the port of Dungeness, Washington.*
Brown Crab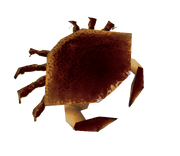 Cancer pagurus, commonly known as the edible crab or brown crab, is a species of crab found in the North Sea, North Atlantic Ocean and perhaps in the Mediterranean Sea. It is a robust crab of a reddish-brown colour, having an oval carapace with a characteristic "pie crust" edge and black tips to the claws. A mature adult may have a carapace width of up to 25 cm (10 in) and weigh up to 3 kg (6.6 lb). C. pagurus is a nocturnal predator, targeting a range of molluscs and crustaceans. It is the subject of the largest crab fishery in Western Europe, centred on the coasts of the British Isles, with more than 60,000 tonnes caught annually.
Golden Deepsea Crab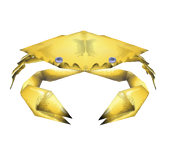 Chaceon fenneri, commonly known as the golden crab or golden deepsea crab, is one of several species of crab harvested for food by humans. It was formerly called Geryon fenneri. Like the blue crab, its common name comes from the color of its shell; it is usually cream to tan in color. Both parts of the binomen Chaceon fenneri commemorate Fenner A. Chace, Jr. It is found on the ocean floor at depths of 200 to 1,500 m (660–4,920 ft) in the tropical west Atlantic, ranging from the Gulf of Mexico to Brazil. It cannot swim. The carapace of this large crab measures up to 20 cm (7.9 in), making the entire animal similar in size to a dinner plate. Its diet includes benthic (bottom-dwelling) organisms like mollusks and worms.
Ad blocker interference detected!
Wikia is a free-to-use site that makes money from advertising. We have a modified experience for viewers using ad blockers

Wikia is not accessible if you've made further modifications. Remove the custom ad blocker rule(s) and the page will load as expected.