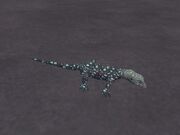 VaranoMania 2 was a pack by SpinoSquad in 2011. There were 17 monitors in the pack, including the crocodile monitor, mangrove monitor, green tree monitor, and lace monitor, to name a few. The monitors are not the greatest quality, but that is due to the limited amount of experience SpinoSquad had at the time. Since then, he has become better.
Animals in pack:
Argus Monitor
Bengal Monitor
Black Tree Monitor
Blue Tree Monitor
Crocodile Monitor
Dumerils Monitor
Desert Monitor
Grays Monitor
Lace Monitor
Mangrove Monitor
Mertens Water Monitor
Northern Sierra Madre Forest Monitor
Peach Throat Monitor
Perentie
Rock Monitor
Savannah Monitor
If you want to check out VaranoMania 2, despite it's quality, click here-[1]
You may have to register on the site.
Ad blocker interference detected!
Wikia is a free-to-use site that makes money from advertising. We have a modified experience for viewers using ad blockers

Wikia is not accessible if you've made further modifications. Remove the custom ad blocker rule(s) and the page will load as expected.