---
---
---
The West Indian Manatee is an animal that resides in the water of the Coastal biome. It is found in the game
Zoo Tycoon 2: Marine Mania
.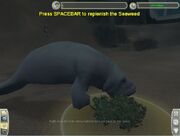 The West Indian Manatee costs $3000, and is unlocked in Challenge and Scenario Modes at 1.5 Stars of Zoo Fame.
The West Indian Manatee is not a hybrid animal, so it is not recommended that it is placed in a non-tank exhibit, but it is okay in the Wetlands biome.
The West Indian Manatee is recommended for all tanks, except the Show Tank Wall.
Zookeeper Recommendations:
(Note: The West Indian Manatee has no enrichment items.)
Ad blocker interference detected!
Wikia is a free-to-use site that makes money from advertising. We have a modified experience for viewers using ad blockers

Wikia is not accessible if you've made further modifications. Remove the custom ad blocker rule(s) and the page will load as expected.