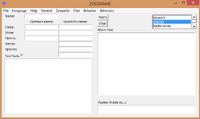 ZOOZANNE
is a program made and coded by
HENDRIX
for creating new animals for
Zoo Tycoon 2
. It allows editing of all essential animal files except for the models and skins, which must be imported manually - however, the animal's Zoopedia, ai and properties including name, codename, endangerment, location and cost can be manipulated. It is not a complete release and does contain some minor errors.
It is a fan-programmed and fan-made application and receives no support from Blue Fang Games or Microsoft.
It is available in a dedicated thread at ZT2 Designing Centre and in HENDRIX's projects topic at The Round Table.
Ad blocker interference detected!
Wikia is a free-to-use site that makes money from advertising. We have a modified experience for viewers using ad blockers

Wikia is not accessible if you've made further modifications. Remove the custom ad blocker rule(s) and the page will load as expected.