Zoo Kingdom
was a Facebook and Mobile game, created by
Blue Fang in
2010. The game closed down the following year.
Closure
On July 15, 2011, Zoo Kingdom closed its gates for undisclosed reasons. Users are no longer able to purchase Facebook credits to get certificates.
Events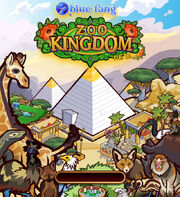 There are many events in
Zoo Kingdom
, including Bollywood Dreams, Monkey Village, and St. Patrick's Day among others.
Animals
Levels 1-60: